It Comes From Within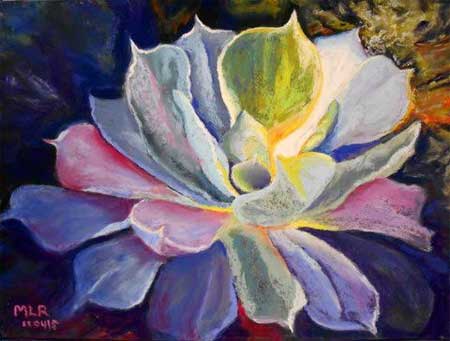 Friends -

Here is a little painting for your Inner Soul. Please enjoy the luminescence and color in this little succulent that is glowing for all it is worth. One could say that this is an inspirational painting, in that it offers the suggestion to take a positive attitude, a sense of well-being and use the day to offer emotional generosity to the world that needs you much.
This pastel was inspired by a photograph taken by Stephen Curtin (a Placerville friend and now photographer). Dr. Curtin felt that it was serendipitous good luck that he benefited from an accidental beam of light reflecting onto and into his small house plant when he had his camera in hand. Still, some say that there is no such thing as chance and that everything happens for a reason. Believe what you choose, but one of those choices could be to take it as your reminder to become a 'Good-Deed-Doer' today. You won't regret it.
This 9"x12" soft pastel is painted on Wallis paper and I would like to use it for a donation to the LCC Esperanza Scholarship Endowment Fund. Please let me know if you would like to make this your tax-deductible donation, although I am open to others that might be important to you. Suggested donation: $250-$350 framed.
Enjoy this glorious autumn. I'm seeing spectacular colors here in Moab!
margie lopez read
top