White Desert Primrose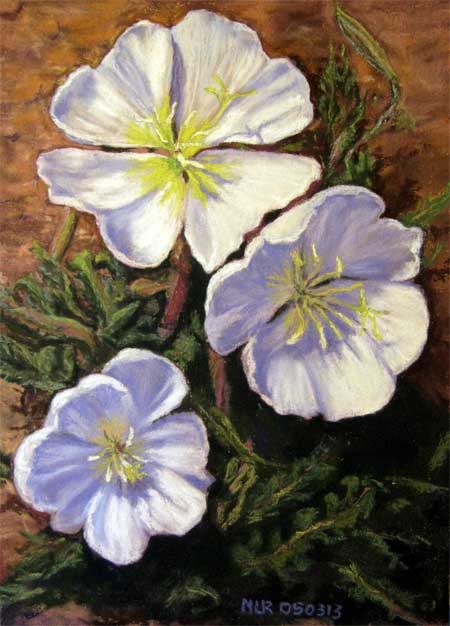 Friends - We are relatively new residents in the town of Moab, and part-timers at that. But we are also fortunate enough to know several very special individuals whose families have lived in the area for generations.
One of those special individuals mentioned to me that if I were to ever paint a desert primrose, both she and her cousin would love it. It seems that both of them grew up in the town of Blanding, where a grandparent's sister (Susan (Sam) Lyman Butts) wrote a beautiful, melodious song called 'Song of White Mesa'. It is about the White Mesa during the spring blooming of white desert primroses.
Well, I do like to know something about anything I paint, so I had to do some research before I could paint this bloom. First step: Bob and I went camping for several days on Cedar Mesa, to look at many canyon things, but also to look for this 'white primrose.' We found some, so now I know their gentle beauty first hand.
I was also allowed to borrow a recording of the song by western story singer, Stan Bronson. Listening to that song and knowing the words gave me a better sense of the reverence that this fragile white blossom has been given. So, I pulled out my pastels and painted Desert White Flower, as you see pictured here today.
Incidentally, the song's chorus is as follows:
Let me go where White Mesa is calling
Let me see the wild primroses there
Let me live 'neath that beautiful mountain
Out on White Mesa so fair
If you would like to hear the whole song, I encourage you to obtain a Stan Bronson CD. Or, you could go to a show at the Bar-M Chuckwagon in Moab. Perhaps Valerie and Alan Brown will sing it for you.
The original of this pastel painting has been traded already, for a donation to a non-profit animal rescue group, 4RFriends. But I also have orders for some prints this week, and can make others for your donation to a good cause of your choice.
margie lopez read

top