Weed Over Rainbow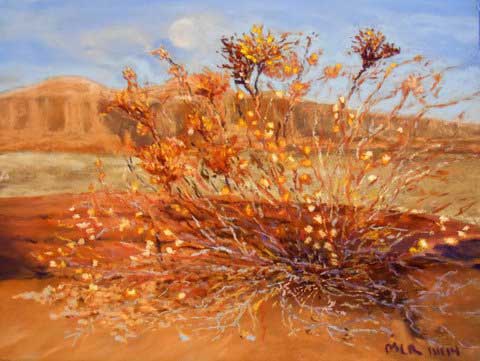 Friends -
Recently two of my friends took me on a hike to a special place known as 'Rainbow Terraces'. I did not expect anything extraordinary, but that is what I got and the place is well named.
Rainbow Terraces is out near Island In the Sky (sort of), on BLM land. It is in fact a huge terraced rock of many colors - layers, splatters, streaks and sparkles. It is eye-smacking amazing, especially from the top. Up there I was still dazzled by all the color but was floored by the vistas from the La Sal Mountains to the Blues to the Henry's and everything in between. Way cool.
So, by now you might wonder why I am painting a mere weed after I just explained to you about the great vistas. I can only say that someday I will get to those vistas. But for now I simply wanted to honor this unnamed plant which manages to eke out a living on the top of a waterless rock. And, in its own way, seems to imitate the rainbows of the terrace on which it lives.
Technically, I should call this 'Weed ON the Rainbow', but I was way to tempted and ended up calling it 'Weed Over The Rainbow'. Yes, I am a product of the '60's. :-)
This pastel painting, 9x12, is available for trade for a donation to a worthwhile organization of your choice.
Be well always,

margie lopez read

top