Walk Before The Storm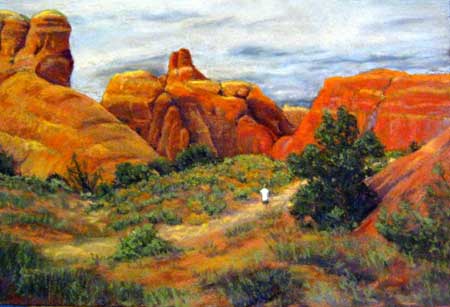 Friends -
I did this painting as a challenge to some of my hiking friends, to see if they could identify the location. It is true, that I climbed up on the top of a fin to take the photo which I later brought home to paint. Thus the actual vantage point is different than what they had seen when they were out hiking. But I am certain that they have all been there.
It is also the early part of a trail that is one of my most favorite here in Arches National Park. There are a variety of hiking options, both easy and tough, that all start out from this point. All of them are wonderful. And since I was still recovering from some ugly bug and being outdoors was off limits, painting this served as my 'virtual hike'.
Still, nobody has come forth with a guess yet, so I am not yet saying where it is.
But mainly, I did want to get it out and posted soon because I am hoping that the next non-profit I can trade this for will be either 'Doctors Without Borders', or the 'Red Cross' to aid with the Philippine crisis. Please let me know if you will be willing to do this, and we can talk about how that works.
Be well. Don't catch what I had!!!
margie lopez read

top