Upper Hidden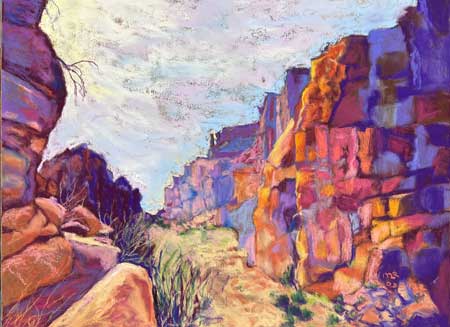 Friends –
I can't remember how long ago it was that I made it up to Upper Hidden Valley (unofficial name). Nor can I remember who showed me the way, or if perhaps Bob and I 'found it' during one of our many adventure hikes. What I do remember is that one day we ventured up the trail into Hidden Valley and then up another steep and unmarked incline and were blessed by this view. From then on, I had come to think of the upper valley as our secret spot.

At some point, we also hiked up with our good friends Noel and Donna Outtrim. It was Noel who took several photographs of this beautiful and complex valley and years ago gave me permission to use it for my Donation Art. Well, finally here it is.

Since the year we first came to know these places, lower Hidden Valley has become popular. It now has a sign on the main highway, a parking lot and the trail is marked with signs. The upper valley also gets some traffic now, and it is probably just a matter of time before someone puts up directional signs and formalizes a trail to the top. Being a lover of solitude, I am hoping that the difficulty of getting there will deter many from visiting.

I feel blessed that in the 30+ years that Bob and I have been exploring SE Utah we have had opportunities to get to know places such as Hidden Valley that had been infrequently trod upon. But I know that now times are changing, solitude is harder to come by and lots of trodding is evidenced by footprints in the sand everywhere.

"Upper Hidden" is a 9x12" pastel painting on Wallis paper. It will be framed and is available to someone who would like to donate to a worthwhile non-profit. Message me if you are interested.
Margie