Sweet Ruin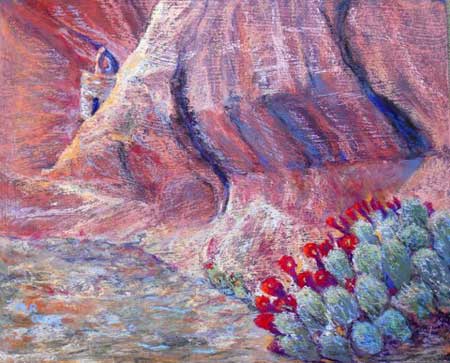 Friends -

I have been busy doing other things for a while, so it is nice to get back to painting. In celebration of being back in Moab, I figured that a red rock ruin site would make the best subject. In this case, I am using a photograph that Rick Schafer generously allowed me to use.

The site is also one that Rick took Bob and I to several months ago. We had a wonderful hike through sandy washes and up rock walls, through growth of cottonwoods and wildflowers. And although Rick knew where we were going, we had no idea. We climbed up to this location, and still nothing was immediately obvious. And then we saw this Sweet Ruin.

You can now see that it is almost as if the claret cup blooms and sunlight were pointing straight at it, praising it with ancient respect of the new for the old. If we had been opening our souls to the signs of the wild, we would have had no trouble finding it.

Never underestimate the sounds of the wild.

This 16x20" painting - soft pastel on textured hardboard - will be on display in May at the 'Spring Fever' show in the Moab Arts and Recreation building that Sandi Snead has so graciously asked me to share with her.
margie lopez read

top