Stairway to the Top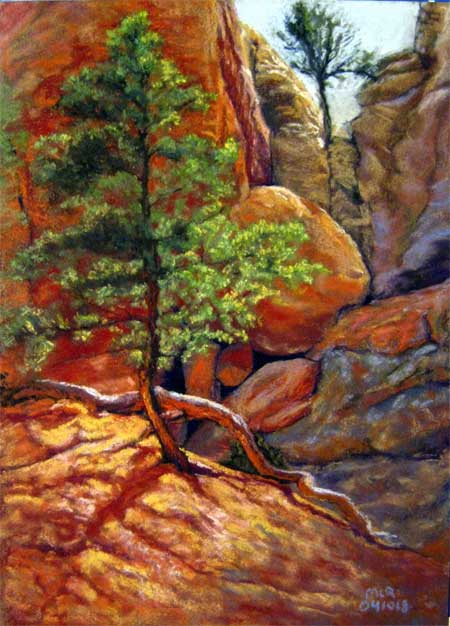 Friends -
One of my most rewarding day hikes at Arches National Park is the primitive trail of Devil's Garden that includes views of many arches and panoramic viewpoints. The route also includes a rather unique formation known as the 'Double-O' Arch. It is called that because it has one massive arch formation on top of a big, but not as massive, smaller arch.
I have come to be near the Double-O many times, but usually in the off-season, when the tourist load is low. I prefer the quiet solitude. However, this month we were playing tour guide, and that would not be the same without a trip to Arches NP.
It turns out that having people around can be beneficial, and it was in this case. As we rounded the bend, I saw 3 or 4 young people on the very TOP of the Double-O. I was astonished because I had never observed a way to get there. It turns out there are two routes, and some of the smaller folks were using the 'stairway' that I am showing you here in this painting.
If you really want to see how it is done, let me know and I will take you there.
'Stairway to the Top' will be entered at the Moab Pastel Guild Show at Bighorn Gallery, Dead Horse Point State Park during the months of May and June. Any 'sales' that I make at that show will be forwarded to the Esperanza Fund of Lane Community College Scholarship Foundation.
Rain in Moab today!!! We need it.
margie lopez read

top