Spirit of the Cottonwood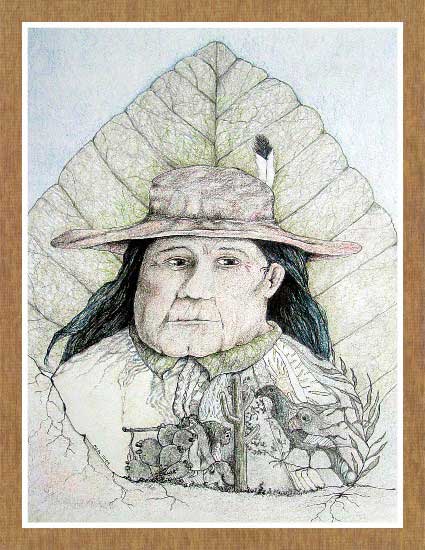 This is a little pencil drawing that I did our trip to Moab, Utah in the Fall of 2004. Out in the Colorado Plateau, cottonwood, willow and other beneficial native plants used to provide grace and beauty in the creeks and canyons. They are now sadly being overrun by the Russian Olive and Tamarisk, which were introduced in the 1920s or 30s to 'reduce erosion from over-grazing.' In fact, they are still being planted in peoples' yards, as many are sadly ignorant (or uncaring) of the environmental damage they cause. These invasive trees are raspy, scratchy, and dense, and make access to the rivers next to impossible. Not only that, each one consumes their own weight in water - up to 100 gallons -- every single day. These plants truly present a nightmare for the thirsty southwest United States.
Spirit of the Cottonwood was drawn with this sad scenario in mind. Cottonwood trees, like many native cultures, share ever-dimishing acreage in the Southwest U.S. The zone near the spirit's heart in this drawing is filled with symbols of life as it was before white man's 'land-management ways' began to destroy it. We know how to do better.

Margie Lopez Read
top