Where the Rainbow Crumbles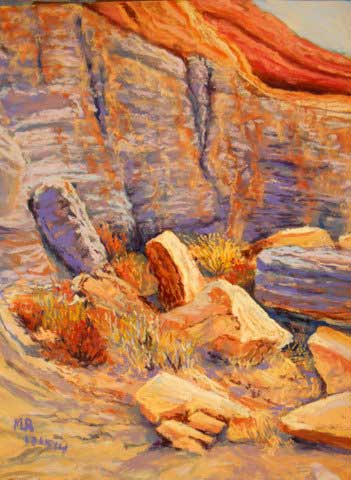 Friends -
This is my second to the last pastel painting for the year - one more
remains unfinished on the easel. Like the last one I finished (Weed Over
The Rainbow) it is from the area of Rainbow Terrace, known as Rainbow Rock.
Well named, as I mentioned last time. I could do many paintings from this
rock of delight, but things are getting busy and it will have to be only
these two for this year.
I again thank my best Moab friend, Mary Collar, for showing me a number of
wonderful hikes - including the one to Rainbow Rock. I would be happy to go
again, and perhaps take one of you.
'Where The Rainbow Crumbles' is a 9"x12" (unframed) pastel painting that
will be available to encourage your donation to a worthwhile nonprofit such
as Doctor's Without Borders, LCC Scholarship Foundation, Save Our Children,
or other that may seem appropriate.
Be well always,
margie lopez read

top