Pisgah Primrose and Parasites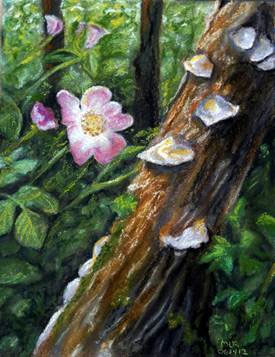 Friends -
In spite of Bob's warnings, I thought I could wait until I returned to Moab to do more pasteling, and thus I left my materials there. Alas, my spirit did not align with the mind, and I realized I needed to get more. With effort, I was able to get some, and do a painting in Eugene. I chose a soft memory of something that my grandson and I spotted along our Mt. Pisgah hike.
It was Benjamin's first trip up the mountain on his own two feet, and we spent a lot of time admiring the surroundings, looking for animal tracks and analyzing bugs and slugs and other good things. There were also a lot of wildflowers in bloom, and the tree fungus was ubiquitous. In spite of being a parasite, tree fungus can be beautiful -- challenging a sense of reality with it's grotesque shapes and sometimes exotic coloring. The whole hike is a good memory for me, and hopefully will be for my grandson, as well.
Tomorrow we hike up Spencer Butte (or as he calls it, Spencer Boot), and we shall see what comes of that.
I will also sell this 11x15 painting for a donation to Doctors without Borders, or to the Esperanza Scholarship fund at Lane Community College, or to a good non-profit of your choice.
Best to you this summer -
margie lopez read

top