Paddles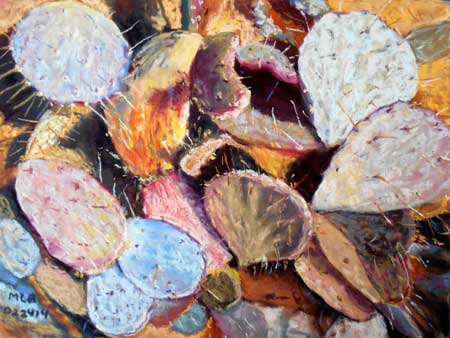 Friends -
I've always tried to be a defender of the underdog. Although I can't say that I have always been noble in my appreciation of others, I do have a tendency to relate to the one that nobody likes and stick up for the one that everyone thinks is ugly. So when someone recently expressed contempt for the cactus plant as a subject of art, I knew I had to do it.
To increase my motivation for this painting, these wonderful paddle cactus (nopales) have been coloring up into an amazing pastel rainbow out here on the Colorado plateau. Although I've seen subtle color changes in cactus color before, this patch that on the lower Portal trail in Moab is one of the more intense to come before my eyes.
I thought that perhaps the changes were due to dying off of chlorophyll cells - like what happens to leaves in the fall. Perhaps the unusual weather this winter added to the biological changes. But I checked with a southwest cactus doctor and he guessed that it was from the soil.
Who knows? But I do know that it is beautiful. Come and see the real thing.
This painting will also be traded for a donation to a worthwhile non-profit of your choice.
margie lopez read

top