Moab Morning Glory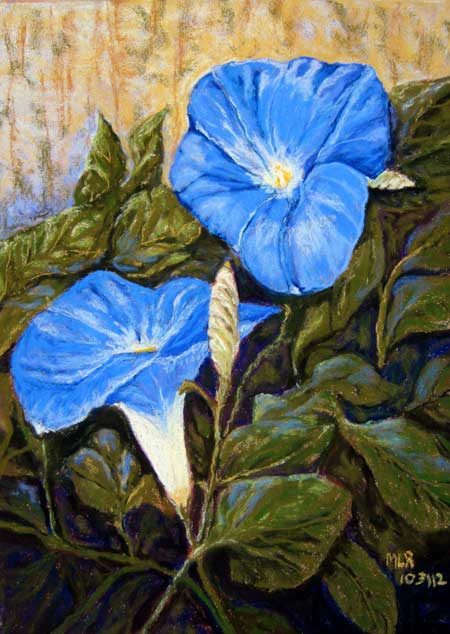 Friends -
You may have gathered that I am building a collection of different paintings of flowers that are not only beautiful, but also have some other value that makes them fun and interesting to me. I like flower paintings also because prints from the final painting make excellent note-cards, which I enjoy giving as gifts. This Moab Morning Glory is the fourth of that flower series, and I have a few more in mind.
We arrived in Moab in mid-September, and these beautiful blooms were still wide open and sassy, although now they are asleep. Back then, I found them in a neighbor's overgrown garden near the Mill Creek bike trail. It is not clear if they were planted or not, as they grow wild and some folks think of these as invasives. They are apparently a relative of the Moonflower, which was the last one of my series. And like moonflowers, they reportedly have a psychoactive substance in the leaves, seeds and blooms and have been used in some Native American ceremonies for this reason
But I like the brilliant blue morning glories, simply because they are so outstandingly proud. And also I learned that my paternal grandmother (who was a very accomplished artist) had painted a few morning glory canvases in her time -- both in oil and in water color. So, I feel closer to her by doing so as well.
As usual, this painting, prints of it, or prints in the form of notecards will be sold for a donation to a worthwhile non-profit of your choice, although I have one or two favorite organizations if you desire a recommendation.
Enjoy the fall -- my favorite season, even if most flowers are going to sleep.
Margie lopez read
www.margies-art.com

top