Mill Creek On Ice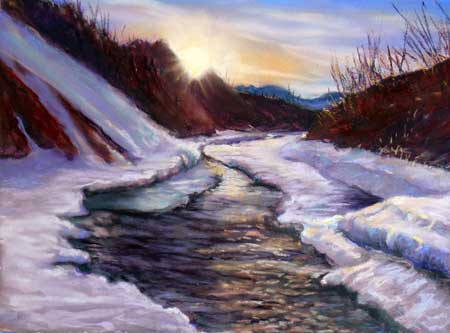 Friends -

I admit it is odd to be finishing a painting of the snow when our porch temperatures are rising to 90 degrees. But I had wanted to paint this ever since our friend, Noel Outtrim took the photograph more than a year ago. It was time.
Because I do Donation Art, I have a few very good photographer friends who are generous enough to let me use their magnificent work to generate donations for worthwhile causes. Noel is one of those fine people. This is a particular privilege, I believe, as Noel's photograph won the top award at the Canyonlands Natural History Association's Canyon Country Photo Contest.
The trail head to the location of this painting is a short bike ride from my house - Mill Creek Canyon. Before the explosion of internet advisories about trails, it was also seldom visited and generally known only to locals in Moab. Now more widely visited, it is still an exceptional canyon with waterfalls, swimming holes, petroglyphs and beautiful views. Come and visit and I will take you there.
Almost as fast as this pastel was painted, it was spoken for. But prints can be made if anybody is interested.
Be well.
margie lopez read

top