Magic Bus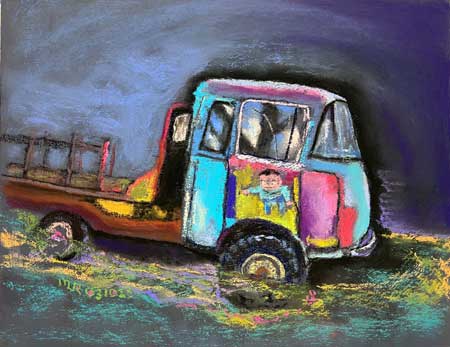 Friends –
All old trucks carry a spirit. The have a special smell, special colors that come from rust and re-paints, and they impart special feelings if you jump inside and pretend to take a ride. This is especially true if you are a kid – or a kid at heart.
This particular vehicle is a real friend of mine. Or, at least it belongs to a real friend of mine who is herself, quite magical. Magically real, I guess you could say.
Magic Bus resides outside an amazing barn art studio that belongs to my very talented friend (and her very talented partner). It is at the end of a long rural road and sits on a hill overlooking the gold-discovery Coloma valley, which in itself is quite magical. I would say that Magic Bus is so inviting that it feels to be alive. I have only ventured to get close enough to smell the lovely old-truck-smell but someday I will have a seat inside. That is, if it does not fly away.
I believe that this truck is already preparing for takeoff, and that somehow the little dude outside the passenger door is taking control of the whole operation. If not, what is he there for? It may not stick around, but if it is still there the next time I visit, I am going to get inside and take a flight.
I would trade this 11x14" pastel painting, which is appropriately framed in a barnwood frame, for a donation to a good cause. But I need to check with my magical friend first, as she may want to claim it. Let me know if you have interest and we will talk.
margie lopez read
Facebook: Donation Art