Kern River Study
and
Kern River

~ Please scroll down or click to see "Kern River" ~

Friends -

I seldom do a painting twice, and I'm not sure I will do it ever again -- but it was an experience. The smaller version of "The Kern" was enjoyable and quick, yet the larger version is quite different in shape, color and mood. It is almost as if they were painted by a different artist, but I do like them both.
Both were completed using a photograph was taken by my friend, Karen Robinson, from a trip to California's Kern River in Sequoia National Park. The photograph is exemplary of the rolling hills that are so typical where the Sierra Nevada drops down onto the Central Valley. I prefer to paint places that I know personally, and this one is no exception.
I have a sense of personal respect for the Kern, because of former employment as a water quality scientist in California. It is the southernmost river in the Central Valley area that I was evaluating, and because of its geographical location, is so completely vulnerable. When California has snow, the Kern drains from the snowmelt of Mount Whitney and charges through a narrow canyon where river rafters and fishermen enjoy the bounty. For 2015, however, the drought and lack of snowmelt resulted in cancelation of commercial rafting trips. The long-term prospects for the health of the Kern River, particularly the lower part, remain grim due to increasing draught and growing demand for water in public water systems and agriculture.
Both the "Kern River Study" and "The Kern" are available for a donation to LCC Scholarship Endowment Fund, or a good non-profit of your choice. They are framed and behind glass. "Kern River Study" is 9x12", with a suggested minimum donation of $200, and "The Kern" is 16x20" with suggested minimum donation of $350.
Best to you all during the holidays.

margie lopez read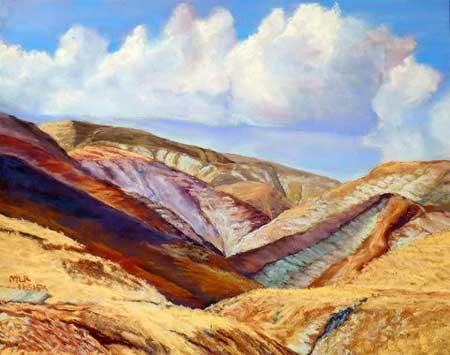 top