Kane Salt Brush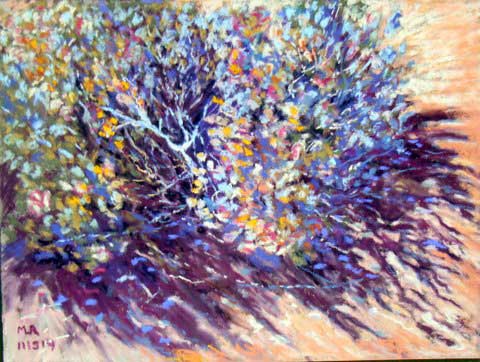 Friends -
This may well be my last painting for 2014. Certainly my last pastel. Perhaps the movement of color in 'Kane Creek Salt Bush' will be enough to satisfy the year's end.
'Kane Creek Salt Bush' fits well for the season, and autumn is so delightful in the southern Utah desert. The angle of the sun and the changing colors of vegetation are a delightful massage for the optic nerves.
I stopped dead in my tracks when I saw this plant during a recent hike down Kane Creek with a group of tough, adventurous hikers. In spite of their dedication to hiking, they are not adverse to stopping to check out the unusual, or admire something beautiful. On this day there was of beautiful stuff, this bush was just one.
I was told that this is a relative of the salt bush by Marcie, who really does not a lot about the desert trails, plants and creatures. We gathered around and I took some photos. I still remain fascinated by the pinks, blues, and greens with which it chose to decorate itself...more varied than even what we could see in the flaming gold of the canyon's cottonwood trees. So lovely.
We are leaving Moab soon and will not return until winter. By then, all the autumn decorations of desert vegetation will be done. It won't be the same. But we will be able to look forward the deep blue skies that come with the cold. And the multicolored rainbow rocks will be here still. I have that to look forward to.
May your holidays be happy and warm.
margie lopez read

top