False Kiva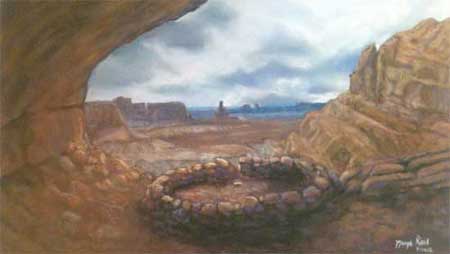 Friends –
This is my fifth pastel in as many weeks, and I can say that it was – by far – the hardest one. It is a real place, which I have been to twice, both times in somewhat stormy circumstances. Because it is located in a high spot, and a bit tricky climb to get there, it is not the best place to need to get out of during a storm. That is so regrettable because at both visits I was unable to stay very long and luxuriate in the spiritual essence of the hidden alcove, and it's amazing view of expansive wilderness. It is also a Class II archeological site, which means the trail to it is not advertised or posted. You have to know enough to ask to be able to find the trail head. May it always stay that way, because it is such a fragile and special place.
It was difficult to paint because of all the available details in the setting, and the sort of confused light that comes with fast moving storm cells. Because of this I remain unsatisfied, and will probably do another attempt at False Kiva. You could consider this one a 'Kiva Study'. I have to thank my new friends in the Moab Pastel Artists group for their suggestions last night, and of course, Bruce Gomez who provided comments for 2-3 of my email requests for advice over the past week.
Regardless, I will sell this for a donation to Doctor's Without Borders. Or perhaps to the Aids Research Foundation on behalf of my friends Rik and Jon who are fundraising for the Foundation, and also in memory of my friend Dennis Dineen who died from Aids.
As I was in my garden, planting some beautiful Wasatch Penstemon, my brain cleared up enough to remember that I forgot to acknowledge Noel Outtrim who allowed me to use his beautiful photograph taken inside False Kiva alcove. Together with Noel and his family, we hiked up there for my first time, in spite of the mild threat of rain.
Noel is a hobby photographer, who in my opinion, rivals even the best of the professionals.
Spring is here, I am told. Enjoy.
margie lopez read
top