Beyond Navajo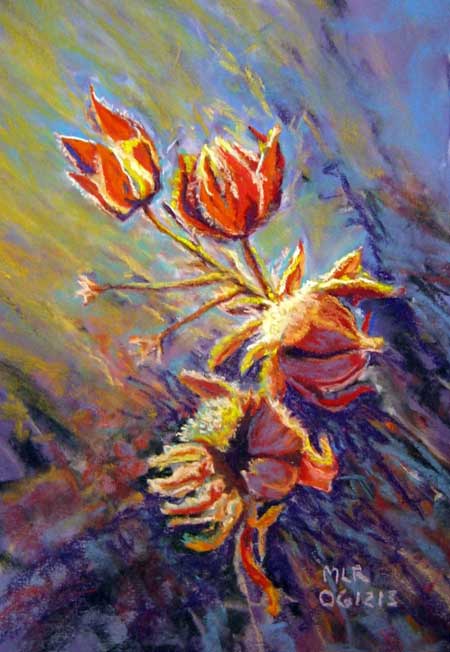 Friends -

Last week I happened to be walking in my friend's back acres in the Colorado Rockies at about 9,000 feet. It was a very cold morning, but the sun was shining brightly. The result of cold and altitude reduced the atmosphere and made the sun so much more brilliant and colors ever so much brighter than anything I've ever seen in lower elevations. Weeds, branches and dried up wild flowers were glowing in the sunshine, as if they were wired into the holiday lights that fill my friend's home with this time of year. Take for example this runt of a plant that I chose to paint...

In consultation with my scientist friends that are knowledgeable about botany, this dried-up plant, now missing the flower petals, may be a winter remnant from the aster family - possibly an 'everlasting'. Nobody is sure, least of all me! Furthermore, it is as hard to paint as it is to identify and I may never know what it is. But I surely enjoyed it's orange, fuzzy brilliance, and that is why it is now here for you to see as well.

As usual, this framed painting, is available for trade for your donation to a worthwhile non-profit. I would like to propose Doctors Without Borders, or the Red Cross for the efforts that still remain to help reduce the suffering in the Philippines.

Because this is the last painting I will likely be able to finish before the close of the calendar year, I want to thank you all for what has been the best year for my Donation Art project ever. Thanks to you, important funding has gone to good organizations including Heifer International, 4RFriends, Save the Children, Society for Adaptive Snowsports and many to Lane Community College Scholarship Foundation.

You've done good!


margie lopez read
top