Desert Princess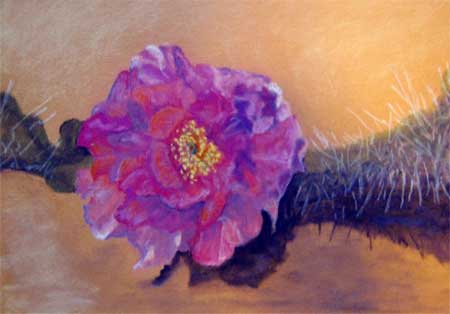 Friends-
Bob and I found cactus flowers like this one all over the trail down to the Escalante River last May during a backpacking trip. So naturally, I had to snap some pictures. It was a magical trip, full of critters and blooms, including this sweet princess protected on her chair of thorns. That backpack trip is not for the easy-going hiker, but if you are willing to do some tough stuff, it is worth it. You get to this trail head by hiking down from a place called 'Egypt' in Utah, after driving down the Hole In The Rock Road.
This is a small (6.5x9.5") painting that I made yesterday, using semi-hard pastels on Canson Mi Teintes paper. I made it specifically to enter it in the Moab Pastel Guild show which will be taking place at the Bighorn Gallery, Dead Horse Point State Park from May 2 through June 29 (see attached flyer). I know it is near impossible for some of you to come to the show, but I would love it if any of you did. And for those of you that cannot, your good wishes for the event will be appreciated.
Although the Gallery will retain 30% of the proceeds, I will exchange the remainder from my sales to go to the Esperanza Scholarship Fund of Lane Community College.
margie lopez read

top