180 Degrees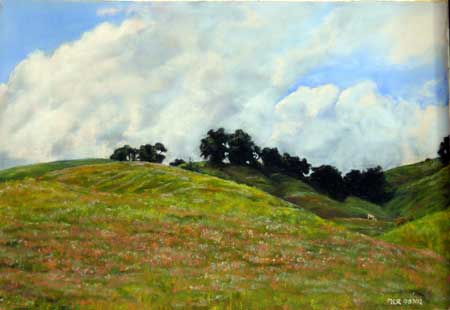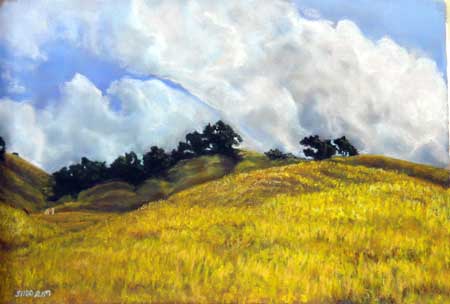 Friends –
Almost every time I make a painting, or other item, I pose a mini-challenge to myself to see if I can do it. Sometimes I succeed, sometimes I don't. With these particular pastel paintings, I took on a little different trick, that really did stretch the limits – at least for me.
Back in April, I had completed a painting entitled, 'California Dreamin', based on a photo taken in the California Central Coast in springtime by friend Greg Gearheart. It was sold to a friend who made a generous donation to Doctor's Without Borders for the purchase. Well, it was Bob's big idea to do a mirror image of the painting, and (by-the-way) make the 180 degree image one of the opposite season (autumn), and to sell the pair together. It sounded like a cool challenge, so I embarked upon that journey. I was lucky that I was assisted by friend, and photographer, Jim Ginney, who provided me with a mirror image print of Greg's photo, as well as Bob's critical eye for autumn colors.
In spite of all that help, I still found that drawing the mirror image shapes onto separate water color sheets, AND inventing the fall colors for the Autumn part was an enormous challenge for dyslexic me. Still, I think that this painting – '180 Degrees' – is fun and soothing to the eyes. And for those familiar with California rolling, oak tree hills, it is a rewarding site. I have attached 3 photos – one of the two paintings side-by-side, and one each of Spring and Autumn. Hopefully, this will also bring some well-deserved contributions to Doctor's Without Borders, or my preference – to Lane Community College Foundation Scholarship in Eugene, Oregon.
I have yet to decide to put both paintings into one mat or to matt each separately. What do you think?
Happy warm summer days to you.
margie lopez read
top