Dead Horse Drop Off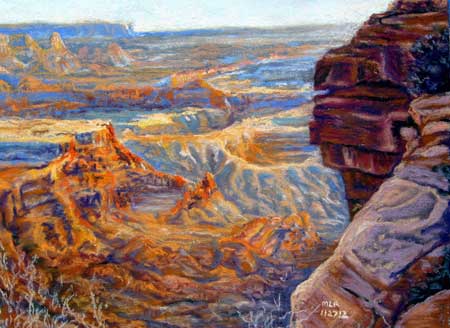 Friends -
First off, I should probably explain that this is a painting of one of the spectacular viewpoints available to visitors to a Utah State park that is close to Moab. The name of the park is Dead Horse Point, which is the reason that I gave the painting the name that I did. The park got its name because cowboys used the spot as a convenient corral for wild mustangs. To get there, they drove the horses along a narrow stretch which opens up to a dry, flat, open 'corral'. The area has a natural 'fence' made of a steep drop off - about 2,000 feet -- to the Colorado River canyon below. The narrow entry way made it easy for the cowboys to block the horses off from their escape.
Unfortunately, for some unknown reason, at one point the horses were left corralled and unattended on the waterless point where they died of thirst. Undoubtedly, they did not appreciate the view of the Colorado River nearly half a mile below them.
In spite of this sad history, if you ever come to Moab, you need to visit Dead Horse Point - preferably at dawn or dusk when the colors are the most outstanding. My geologist friends will appreciate the beauty that 300 million of years of geologic activity created here. Deposition of sediments by ancient oceans, freshwater lakes, streams and wind-blown sand dunes as well as uplifting from the continental drift created the rock layers of canyon country. Erosion continues to slowly transform the beauty, as the river winds its way south west through three more states toward Mexico. The muddy water that is left after hundreds of miles, scores of water rights arguments and illegally confiscated water, ends up in the Pacific Ocean at the Sea of Cortez.
'Dead Horse Drop Off' is a pastel painting and is available for a donation to a good non-profit organization of your choice. I am particularly fond of Lane Community College Foundation Esperanza Scholarship Fund (named after my granddaughter), and do have other suggestions, but most definitely will help you decide among other choices that you may have.
margie lopez read

top