Rosa's Calla Lily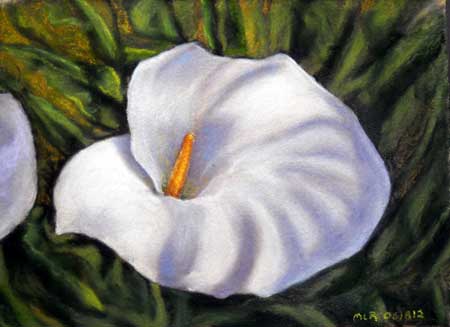 Friends -
I am back in California today, but this is the last pastel that I did in
Eugene. I brought it back with me so that I could share it with you.
As you may know, I was staying with my daughter and her family and helping
take care of her wonderful little boys - Benjamin and Leonardo. It is
always a pleasure to be there, and I so much enjoy the bonding time with my
grandsons. In addition, Rosa and Gonzalo have a beautiful, green back
yard, endowed with luscious plants, and vibrant flowers. Rosa is
particularly fond of her crop of Calla Lily's this year, as they rise up
from the green like white trumpets of glory.
Personally, I think of these flowers as being native of Mexico, although I
do not know that for a fact. But they most certainly grow plentifully there
(as they do in Rosa's back yard) and Mexican artists use them in paintings,
pottery, tapestries, etc. One of my favorite artists with a political bent
- Diego Rivera - used the Calla Lily many times in his murals about the
struggle of the common person, as well as in his paintings of Frieda and
other women.
Rivera was one of the influences in my art - not so much for his style
painting as for the concept of using art to give a message.
Rosa's Calla Lily is for sale for a donation to the Esperanza Scholarship
Fund at Lane Community College. That would be the most appropriate
non-profit since it was created by the college in the name of Rosa's
daughter. However, if you have something else in mind, let's chat.
Enjoy summer - it seems to be here now!

margie lopez read

top