Bonds That Matter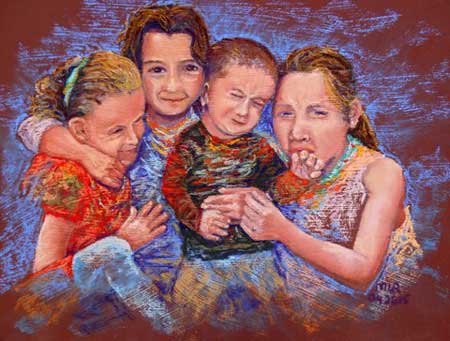 Friends -
This painting is the fourth in a series that I am doing of the children living in refugee camps in the Middle East. I am using the photographs of Terri Crisp, how has allowed me to do so in order to help spread the word about them - who they are, how they live, what they need. Terri is planning on going back in June to help bring them supplies and love once again.
This particular photo was taken at the Kawergosk Syrian Refugee Camp outside of Erbil in Northern Iraq. I see in it the love and protection that these children have for each other - which is the type of bond that will help them best survive the traumas that they are witnessing. You can see how the littlest is very upset about something, so much so that he unknowingly flings his little fist into the face of the girl next to him. Perhaps it is a fear of the big camera-object in front of him? Yet, they are all gathering about to help him feel better. The bonds that matter.
Terri and I have discussed the most appropriate non-profit organization to receive the funds that will be generated from the sale of these paintings. It seems that the World Food Program is involved in the areas where these children live and it definitely is in need of more resources. So that is where it will go. They will be available for your donation-purchase starting May 11.
Giving is good.
margie lopez read
top