Beyond Navajo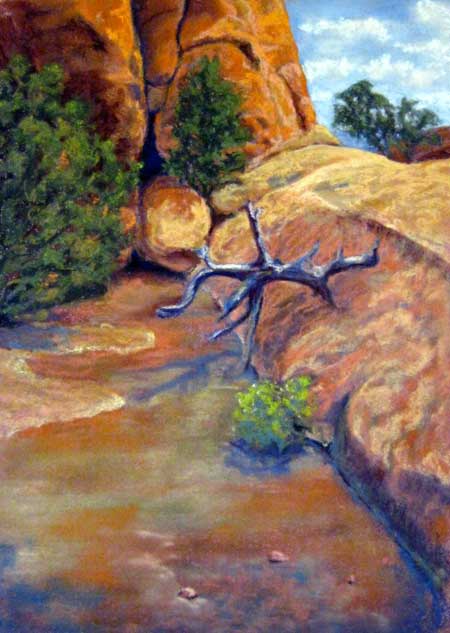 Friends -

I almost completed this pastel 3 weeks ago, but was interrupted by a Halloween adventure with my grandsons in Oregon. Now happy, but fully depleted, I gave the painting a few small dabs and will soon frame it and make it available for whomever wishes to donate to a worthwhile cause.
I called this painting 'Beyond Navajo' for a couple of reasons. One is pretty easy in that it is located on the youngest and therefore topmost formation in the area of Arches National Park known as Navajo Sandstone. The orange rock forms tempting cliffs, alcoves and natural arches that call loudly to anyone fond of exploration. Beyond this layer you will find only the bluest skies vibrating against the orange.
Another simple reason is because this spot is near a natural arch known as 'Navajo Arch' in the Devil's Garden area of Arches NP. I loved the seep water which was allowing bright green algae to grow and further enhance the oranges in the rock.
I love Arches NP and never tire of going there.
On Another Note: I was contacted on my web site last month by the folks from El Dorado County's 'Style' Magazine. They were enquiring about using one of my paintings for their November issue. I sent them some jpegs just before I went off to Oregon, not knowing for sure if it would be used or not. I am attaching the result. This was a MOST fun thing for me. (And my Mom loves it, too).


margie lopez read
top