Backside of Sundown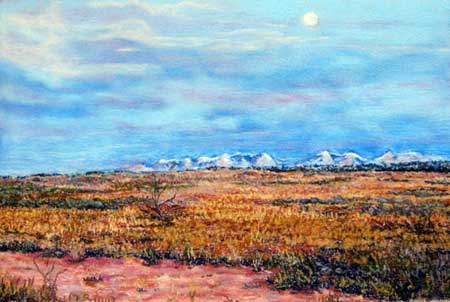 Friends -
Sunsets here are big. The sky is big, views are so often long and knock-dead gorgeous. Thus, when it comes time for the sun to go down you can be astounded by the colors, not only to the west, but everywhere in the whole sky. This particular painting, for example, is taken from a time that Bob and I were coming back from Dead Horse Point just after the sun dipped below the horizon. The view is not facing west to watch the setting sun. Rather, it is looking to the east as towards the La Sal Mountains. On this day, as on many days in the autumn, there were enough clouds in the sky that the whole world looked pink and purple, tempered by gold. The sundown glow was so strong that it even affected the color of the earth, making it seem rosy and warm.
I am having way too much fun here.
Backside of Sundown is done in soft pastel, and is available for a donation to a good non-profit organization of your choice. I am particularly fond of the Lane Community College Foundation Esperanza Scholarship Fund (named after my granddaughter), and do have other suggestions, but most definitely will consider choices that you may have.

margie lopez read
top