Ayudame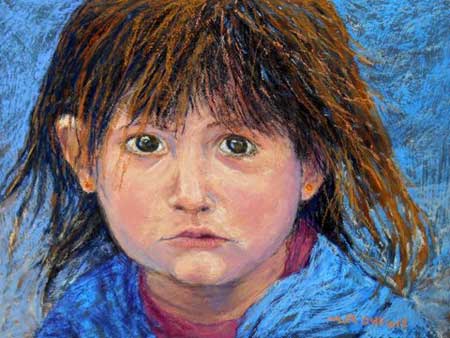 Friends -

This is my second painting in a series of children in refugee camps in the Middle East. I have a brave friend who went there in part to deliver art materials to them so they can have tools to help express what they are going through.
This portrait (Ayudame) is made using soft pastel on textured hardboard and the image in one of Terri Crisp's photographs. I do not know the name of this child who I believe is in a Kurdistan camp. She seems so young. Her face tells me that she needs and wants help, but is not sure if she can trust.
I will have all these paintings on display at the Moab Arts and Recreation building on Saturday, May 9 for the Art Walk. Sandi Snead has asked me to partner with her for the 'Spring Fever Show' during month of May. I am honored.
I am considering what would be the most appropriate non-profit group to receive the funds from the sales of these framed portraits. At this point, Doctor's Without Borders is high on my list because I know that they are assisting children (and adults!) here and all over the world. But if you all have good ideas, let me know.
margie lopez read
top